The state of the market
Like many other major cities, Boston's real estate market has been hit hard by the pandemic. The downtown area especially saw a massive exodus of residents, who left apartments vacant in search of more space during the lockdown. The once-vibrant college campuses in and around the city were quiet and subdued as students were sent home to complete their studies remotely last March. As the vaccine continues its rollout, campuses are expecting to be full again this fall, which bodes well for investors in the student housing sector.
Here are some real estate trends of note:
Housing is in short supply: Demand is high and inventory is low in Boston's real estate scene. When homes do come onto the market, bidding wars usually ensue for those who can afford to get into the fray. This is particularly discouraging for first-time homebuyers who will likely have to wait for the market to cool off or expand their search farther outside of the city.
The median price of houses is high: It's expensive to buy a home in Boston. The country's average median home price is $330,000, but in Boston, it's hovering around $557,000. It will be hard for investors to find any bargains in such a hot real estate market, and homeowners lured by low interest rates might find their budget stretched to the max. That said, if you already own property, now might be the time to cash in.
The rental market is on the rebound: Even with a drop in rent, Boston's median rent is much higher than that of the general market. Boston is a huge college town, which meant there was a massive exodus of students during the pandemic. Most students continued their studies either remotely or in a hybrid fashion, depending on their campus. Things are definitely looking up for the fall 2021 semester, though, so campuses — as well as landlords — are looking forward to welcoming back students.
Boston housing demand indicators
All data and charts supplied by Housing Tides by EnergyLogic.
Home prices have risen in Boston due to the low supply and high demand, good news for current property owners. On the flip side, rents have fallen and vacancies have increased, bad news for rental investors. However, in towns near large campuses, vacancies will get filled up once again when more students return in-person instruction as anticipated this fall.
Unemployment trends
For the past several years, the unemployment rate in the Boston area had been below the national average. That all changed in 2020 because of the pandemic. Like in many other metro areas, the Boston unemployment rate increased, and for much of the lockdown, the area's jobless rate was higher than the national average. Boston's unemployment rate currently stands at 6.8%, for a 3.8% increase year over year, but this will hopefully improve now that businesses are opening back up and more people are returning to work.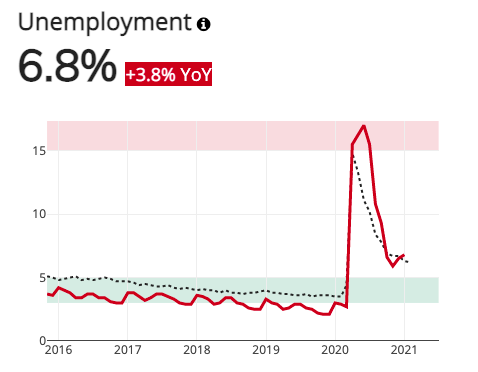 Median home price
The Boston area is an expensive place to live. The current median price is $557,000, which is $227,000 more than that for the country. The median price of homes has increased 10.3% year over year, as low inventory leads to bidding wars, even during the pandemic. The priciest neighborhoods in Boston include the Back Bay, Beacon Hill, and the Seaport District; neighboring Newton, Cambridge, and Brookline also have many multimillion-dollar homes.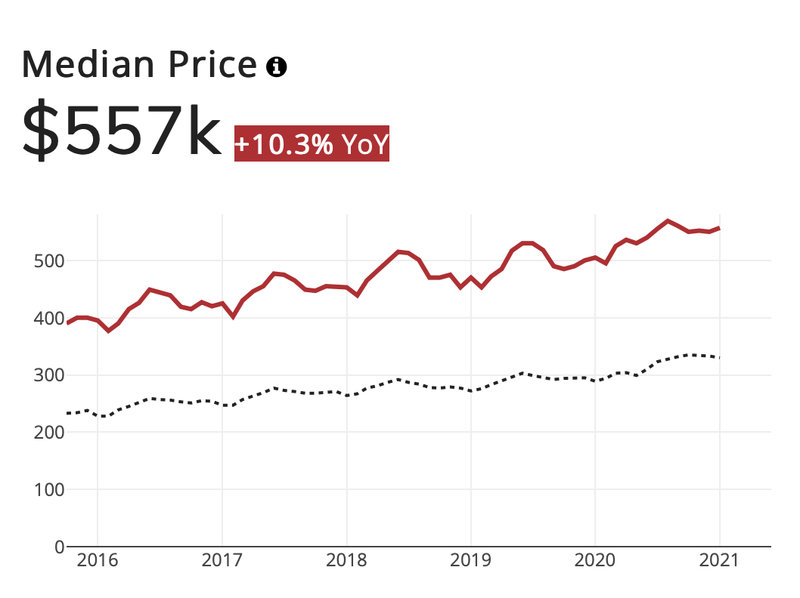 Median rent price
It's also expensive to rent in Boston, where the current median rent is $2,230, surpassing the national median price of $1,740. Still, Boston rents have decreased 5.9% year over year. The pandemic caused many renters to flee crowded cities. Many of these renters were college students, many of whom were forced to or made the choice to continue their studies remotely starting in March 2020.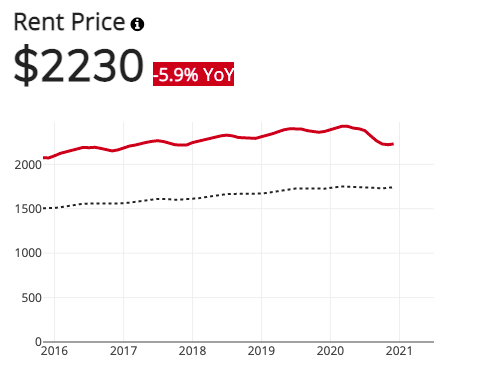 Boston housing supply indicators
Here's a look at the current housing supply in Boston.
Total housing supply
Boston has a tight housing market, with only a 1.4-month supply of homes. This is slightly lower than the national housing supply, which sits at 1.6 months. Low inventory coupled with a high median price means this is a tough market to crack, particularly for first-time homebuyers. While low mortgage rates make homeownership more enticing, a hot seller's market means fierce bidding wars that will be a losing battle for some.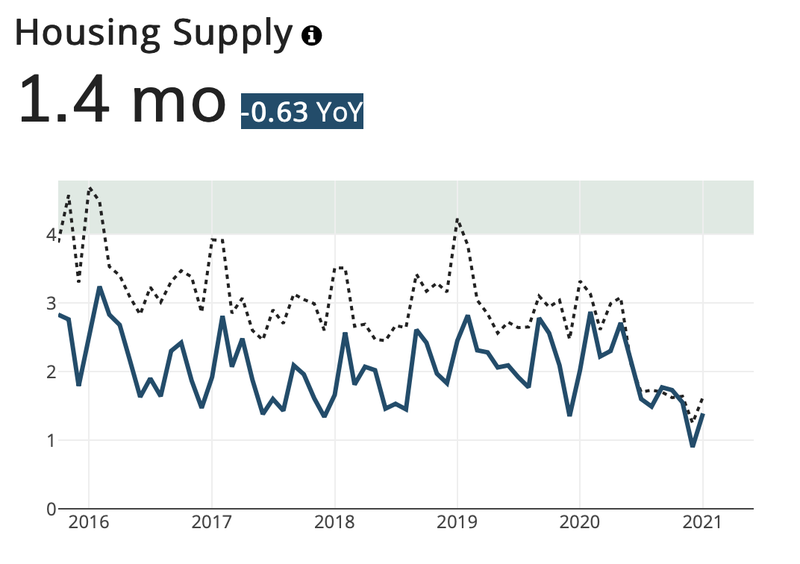 Rental vacancies
Vacancies saw a sharp increase since we first went into lockdown in March 2020. Many people left the city, particularly downtown Boston, where vacancies spiked to nearly 25%. Thousands of college students were also sent back home to continue their studies remotely. As more people become eligible for vaccines in the upcoming months, expect to see full campuses again this fall.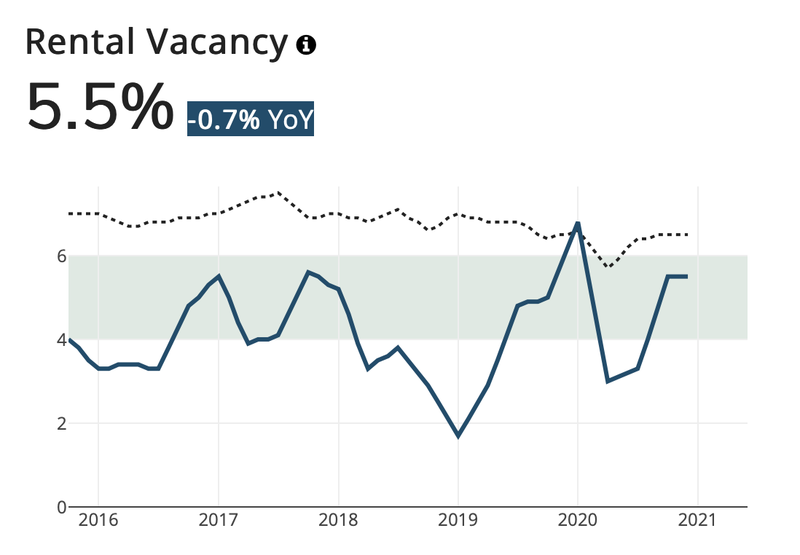 Architectural billings
2020 was not a good year for new construction, as many projects were put on hold because of the pandemic. Boston has been mostly below the national average in architectural billings for the past three years. It took a nosedive during the first part of 2020, but there has been recovery in fits and starts over the rest of the year. Still, architectural billings are below the national average and have seen a 3.4% decrease year over year.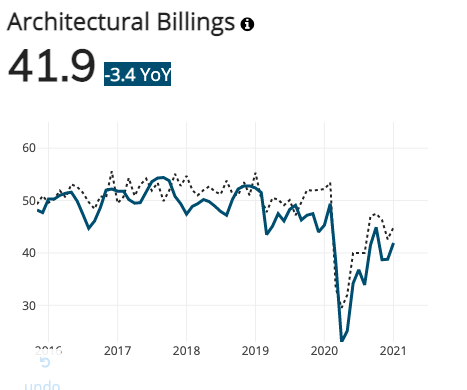 Construction indicators
Construction costs have been on a fairly steady rise over the past few years, with a 6.7% increase year over year. Builders and contractors are currently dealing with supply shortages and increases in lumber costs, which make new builds an even more expensive proposition.
Just as many offices closed down to help stop the spread of COVID-19, many construction projects were also delayed in 2020. Despite higher costs, many projects were once again given the go-ahead, but Boston building projects are still not quite where they were before the pandemic.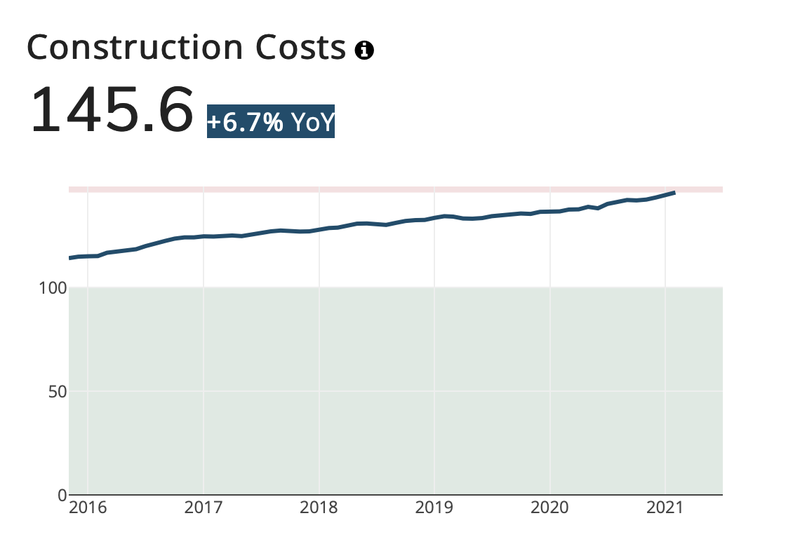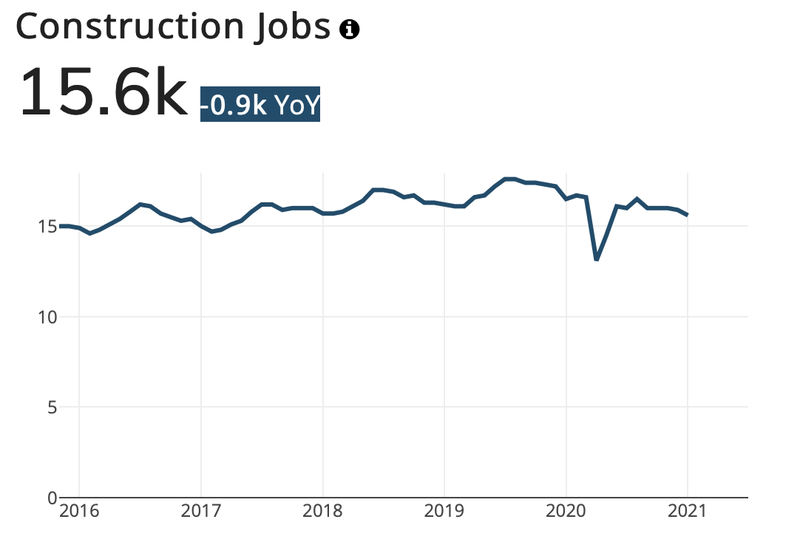 Single-family detached permits
February 2021 saw the issue of 412 single-family detached permits, about 100 more than expected. The forecast for the rest of the year shows an upward trend in the number of permits, which could boost Boston's low housing inventory.

Multi-unit permits (2-plus units)
Multi-unit permits also surpassed what was forecast for 2021. In February 2021, 849.8 permits were issued, about 200 more than what was expected. This is good news for investors, as multifamily homes are typically easier to rent than single-family homes. The increase in multi-unit permits could also be an indicator of more apartment dwellers searching for an upgrade to bigger spaces when the pandemic forced them to live and work in tight quarters.

Boston real estate financial health indicators
Like other major cities in the country, Boston had it hard during the pandemic. Job losses and furloughs led many tenants to fall behind on the rent, and eviction moratoriums gave little recourse for landlords.
Delinquencies
The delinquency rate in Boston is up nearly 2% from last year, a sure indicator that job loss and furloughs caused tenants to get behind in the rent. With evictions put on hold during the pandemic, many landlords fell behind in their own mortgage payments.